Metal Polish and Brightener
This polish is formulated with hi-tech abrasives and polymers that safely clean and polish without scratching. Removes light to heavy oxidation. Can be used on aluminum, chrome, stainless steel, brass, copper and silver.
Key Points
Easy to apply and remove, Does not leave a residue, Excellent on aluminum wheels.
Product Usage Industries
Public Safety (Fire/Rescue, EMS, Law Enforcement, DNR), Utility Companies, Recreational Vehicles, Trucking, Towing, Horse Trailers, Public Works, Military, and Septic Haulers.
Metal Polish is available in the following sizes:
• 8oz Bottle $10.95
• 4x8oz Bottle Case $34.75
• 32oz Bottle $32.50
• 4X32oz Bottle Case $114.00
• 1 Gallon $98.75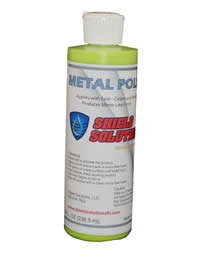 Product Sheets