Aluminum and Metal Cleaner
This product is designed to make the cleaning and maintenance of all polished metal surfaces fast, safe and easy. Requires no polishing or buffing and the desired effects are achieved with minimal effort. Removes rust stains and oxidation from aluminum, stainless steel and chrome. Will not turn aluminum white or gray.
Key Points
Excellent on Diamond Plate and Wheels. This products: Replaces multiple acid blends; Does not contain hydrofluoric acid or Muriatic Acid; Will not etch or attack polished surfaces; Safe on painted surfaces and decals; and Will not haze or dull aluminum.
Product Usage Industries
Public Safety (Fire/Rescue, EMS, Law Enforcement, DNR), Utility Companies, Recreational Vehicles, Trucking, Towing, Horse Trailers, Public Works, Military, and Septic Haulers.
Aluminum & Metal Cleaner is available in the following sizes:
• 1 Gallon $31.25
• 4X1 Gallon Case $87.50
• 5 Gallon Pail $10.50
• Drum or Tote (Contact for Pricing)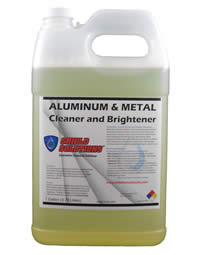 Product Sheets
Product Photos and Videos